78th Annual Meeting of the German Society of Oto-Rhino-Laryngology, Head and Neck Surgery
German Society of Oto-Rhino-Laryngology, Head and Neck Surgery
16.05. - 20.05.2007, Munich
78th Annual Meeting of the German Society of Oto-Rhino-Laryngology, Head and Neck Surgery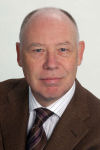 Dear Colleagues,
friends and visitors,
I would like to warmly welcome you to the 78th Annual Meeting of the German Society of Oto-Rhino-Laryngology, Head and Neck Surgery at Gasteig Kulturzentrum in Munich.
The driving force bringing us together year after year, is the fundamental interest in sharing experience, progress and the latest discoveries in Oto-Rhino-Laryngology. We want to discuss advances in diagnostics and recent developments in therapy - in brief: we all want to collect further knowledge in the interest of our patients.
The 78th Annual Meeting provides all this on an exceptionally high level by way of presentations, lectures, round table talks, video sessions, posters, symposia, courses, and last, but not least, through personal encounters with specialists of various professional backgrounds from all over the world.
The motto "aesthetics meets function" may at first glance be dedicated only to the reconstructive and plastic surgery site of our field, but of course also applies to all the other colourful facets of Oto-Rhino-Laryngology. Preserving functionality but loosing the original aesthetic aspect of the patient means winning the battle merely by half. When a hearing aid bothers the eye, the aid will be carried less often. Likewise, the life-saving tracheostoma might turn into an aesthetic flaw, just like a walking stick, that functionally supports the equilibrium of the bearer, but makes his handicap visible to everyone else.
The purpose of this meeting is to obtain more progress in all aspects of Oto-Rhino-Laryngology, also as far as international competition is concerned. Therefore we have an international forum with high-ranking guest speakers that is mainly dedicated to reconstructive plastic surgery, but is not limited to this subject matter.
The 7th Meeting on Nursing in Oto-Rhino-Laryngology offers topics of vivid interest for medical professionals and shows that continuous learning in the field of nursing is just as important as further medical education.
Also bringing us together is the wish to meet colleagues and friends, to revive old friendships and, away from everyday routine, to verify our personal professional standing within the framework of our "ENT community".
Munich with its mediterranean touch, open to the world, boasting traditions, yet modern at the same time, embraced by beautiful rural sceneries, is ideally suited for people who want to come for professional reasons and also for short holidays, thus combining, as it were, "function and aesthetics".
No matter which aspect matters more to you - the destination Munich is worth making the trip anyway.
Therefore again: warmly welcome to Munich 2007!
Sincerely yours

Prof. Alexander Berghaus
Note:
Medical science is subject to constant developments. Therefore it may occur that current research results which could not be taken into account when submitting the German abstracts are now part of the presentation of abstracts/posters at the Annual Meeting of the German Society of Oto-Rhino-Laryngology, Head and Neck Surgery.
The English abstracts which are published after the Annual Meeting may therefore diverge in content from the German abstracts on this site. Hence, the published articles meet the state of knowledge at the completion date of the respective manuscripts.
Scientific Program