84th Annual Meeting of the German Society of Oto-Rhino-Laryngology, Head and Neck Surgery
German Society of Oto-Rhino-Laryngology, Head and Neck Surgery
08.05. - 12.05.2013, Nürnberg
84th Annual Meeting of the German Society of Oto-Rhino-Laryngology, Head and Neck Surgery
May 8th - 12th, 2013, Nuremberg Convention Center (NCC Ost), Germany
Ladies and gentlemen,
Distinguished Guests and Visitors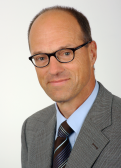 "Innovation – Sure, Safe and Sound" is the motto of this year's annual meeting. This motto states the fact that innovation is an integral part of the development of our specialty as it always must be. On the other side of this slogan is the emphasis that the safety of our patients must constitute a central point in medical evolution. The study of new surgical techniques and examination of current therapies is certainly essential in the development of our specialty. In this respect safety must always be at the heart of this effort. Hence is the old principle: "nihil nocere" that we should always call to mind in our daily practice, because we must always provide safe and effective treatment to our patients, and that can be only achieved if we keep risks and possible sources of error in mind. For this reason I chose to give the review papers the title "Faults and Failure". Beside the medical aspects, here we will shade a light on the legal aspect, discuss and highlight the particular errors of the different areas of our specialty.
To promote the expanding our sense for self-criticism in this year's meeting daily sessions will take place under the title "Faults and Failure". Individual complications and the resulting consequences shall be discussed.
In addition to these important topics, you will be able to attend sessions and presentations in variety of topics and issues in our beautiful and wide field of ear, nose, throat, head and neck surgery. In the selection of topics and speakers I tried to present to you the most important innovations, as well as the gold standards. Still you are encouraged to discuss controversies about gold standards. A contribution to this regard, debates about "neck dissection", "tonsillectomy" and "significance of DVT in otolaryngology" will be taking place in this year program.
In view of more than 900 publications I´m sure that the 84. Annual Meeting will present you a very interesting and ambitious scientific program.
A major input to our Congress comes through international scientific collaboration which brought to us tremendous and valuble contributions which will take place in the International Forum. For this I am thankful to all international participants. The international exchange contributes to all areas of our specialty and is eagerly awaited.
My thanks go to all authors for their invited and submitted presentations and also to all who took part in organization and arrangement of this conference program.
It is my great pleasure to welcome you in Nuremberg.
Sincerely

Prof. Dr. med. Heinrich Iro
President of the German Society of ORL HNS
Note:
Medical science is subject to constant developments. Therefore it may occur that current research results which could not be taken into account when submitting the German abstracts are now part of the presentation of abstracts/posters at the Annual Meeting of the German Society of Oto-Rhino-Laryngology, Head and Neck Surgery.
The English abstracts which are published after the Annual Meeting may therefore diverge in content from the earlier published German abstracts. Hence, the published articles meet the state of knowledge at the completion date of the respective manuscripts.
Hint: Using "Search in HNOD 2013" (top right) you may search for authors, titles and text content of these abstracts.
Scientific Program