83rd Annual Meeting of the German Society of Oto-Rhino-Laryngology, Head and Neck Surgery
German Society of Oto-Rhino-Laryngology, Head and Neck Surgery
16.05. - 20.05.2012, Mainz
83rd Annual Meeting of the German Society of Oto-Rhino-Laryngology, Head and Neck Surgery
May 16th - 20th, 2012, Rheingoldhalle in Mainz, Germany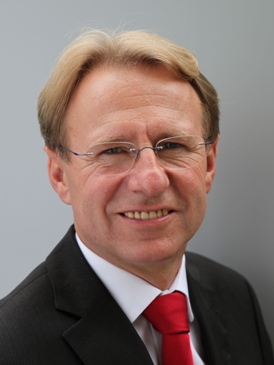 Dear colleagues,
The motto for this year's congress, "Frontiers in Otorhinolaryngology", was inspired by the development of our scientific journals, which, in early years, often carried the addendum "Grenzgebiete" (bordering areas or frontiers). The motto is a tribute to the long development of our specialty and the important role constructive dicussions with neighboring specialties have played. We would like to continue in this tradition of the fruitful exchange of ideas and new methods for the benefit of our patients, not promote a spirit of demarcation between specialties.
A primary focus of the lectures will be the diagnosis and treatment of head and neck cancer. This is especially suited to highlight the importance of exploring frontiers in scientific research for collaborating specialties and promoting translational research. We will also explore many other frontiers to neighbouring specialties, like interventionl endoscopy of the upper aero-digestive tract, dysphagia, dizziness, sudden deafness and obesity hypoventilation syndrome. Hands-on experience will be gained in allergology and the nursing conference will discuss modern wound management.
In addition to this, free lectures, posters and presentations will deal with the complete spectrum of otorhinolaryngology. Topics discussed in round tables and invited lectures will be published in german scientific journals after the congress.
I would like to express my deep appreciation to all those contributing the program, especially authors and invited lecturers. I am looking forward to welcoming you in Mainz!
Sincerely,

Prof. Dr. med. Norbert Stasche
President of the German Society of ORL HNS
Note:
Medical science is subject to constant developments. Therefore it may occur that current research results which could not be taken into account when submitting the German abstracts are now part of the presentation of abstracts/posters at the Annual Meeting of the German Society of Oto-Rhino-Laryngology, Head and Neck Surgery.
The English abstracts which are published after the Annual Meeting may therefore diverge in content from the German abstracts on this site. Hence, the published articles meet the state of knowledge at the completion date of the respective manuscripts.
Hint: Using "Search in HNOD 2012" (top right) you may search for authors, titles and text content of these abstracts.
Scientific Program