85th Annual Meeting of the German Society of Oto-Rhino-Laryngology, Head and Neck Surgery
German Society of Oto-Rhino-Laryngology, Head and Neck Surgery
28.05. - 01.06.2014, Dortmund
Welcome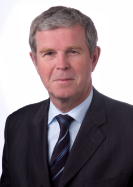 Dear colleagues,
I wish you a very warm welcome to the 85. Annual Meeting of the German Society of Oto-Rhino-Laryngology, Head and Neck Surgery, for the first time in Dortmund!
Here you find the online publication of the meeting's abstracts and at the same time a proof, that scientific work is popular and on a good track within the German ENT-community. I want to thank all contributors – from the speaker of an important main-lecture to the author of his or her first scientific poster in the career. My acknowledgment is true in the same way for the publisher of this publication and the support that I got from the staff of our office in Bonn in collecting and arranging the whole lot of contributions.
It is a privilege of Oto-Rhino-Laryngology to have patients during the whole lifespan, from the toddler to the seniors. We care for typical paediatric ENT-diseases on one hand and for audiologic or oncologic problems of sometimes very old people. Therefore I chose "ENT for every age" as a comprehensive motto for this year's meeting.
Treating children is difficult, as paediatric diseases have their own rules and as a physician you must care for a child and its parents simultaneously. We shall keep close contact with paediatricians, anesthesiologists, radiologists and many others to develop straight forward interdisciplinary concepts for our young patients.
Several main lectures deal with ENT-problems of the elderly generation, as it is growing in Germany rapidly and we must find medical and ethical concepts for the last years of life of our patients.
As many other specialties ORL in Germany is under growing pressure to have evidence-based proof for treatment-concepts that have been true and accepted for decades. Fading resources in healthcare make us compete with all stakeholders. As comparable mechanisms are under way in other European countries we can learn from international contributions about strategies and expertise to cope with this. The newly founded Deutsches Studienzentrum HNO (German study centre for ENT), that has been established for this purpose, will present its continuing efforts during the meeting.
As every year we want to find out which "lump gemstones" in the scientific field of ORL can be "polished to jewellery". Which insights and methods are enduring and sustainable for us and especially our patients and which are erroneous and only shooting and falling stars.
We invited The Netherlands, Belgium and Luxembourg as guest countries and are looking forward to welcome many participants from these countries. The English-spoken International Forum running daily from Thursday to Saturday will bring together all our international guests from Europe and abroad and many important and central sessions are allocated there.
I hope this publication will make you curious and will help you to find your individual way through all the parallel sessions. It is a good compendium to re-evaluate all contributions and get into contact with the authors.
I wish you a stimulating scientific meeting and many new interesting contacts here in Dortmund, that has been an ethnical melting pot because of its industrial and scientific history during the last century.
Yours sincerely
Prof. Dr. med. Thomas Deitmer
President of the German Society of ORL HNS
Note:
Medical science is subject to constant developments. Therefore it may occur that current research results which could not be taken into account when submitting the German abstracts are now part of the presentation of abstracts/posters at the Annual Meeting of the German Society of Oto-Rhino-Laryngology, Head and Neck Surgery.
The English abstracts which are published after the Annual Meeting may therefore diverge in content from the earlier published German abstracts. Hence, the published articles meet the state of knowledge at the completion date of the respective manuscripts.
Hint: Using "Search in HNO 2014" (top right) you may search for authors, titles and text content of these abstracts.

Scientific Program